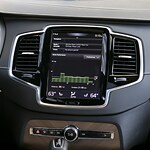 The Volvo XC90 remains a hit among owners who prefer the benefits of having an SUV and who also appreciate the luxurious features that Volvo provides. Although stylish and elegant inside and out, the vehicle was built to perform. New owners have the option of choosing between three different engines.
The T5 level comes with a four-cylinder turbocharged 2.0-liter engine that generates up to 250 horsepower. The vehicles also have front-wheel drive and an eight-speed automatic transmission. All-wheel drive is also an option. The T6 level models have four-cylinder engines that are both supercharged and turbocharged. The more powerful engine design provides up to 316 horsepower. The vehicles have standard all-wheel drive.
The top-of-the-line T8 models combine the double-charged four-cylinder with two electric motors to deliver up to 400 horsepower. Select and R-Design model and gain a manual transmission. Make arrangements to visit our Dulles, VA Beyer Volvo Cars Of Dulles facility, and test drive a Volvo XC90.