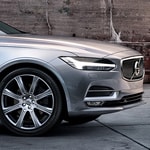 A luxury wagon is something you have been after. Look no further than the V90 from Volvo. It is an excellent choice for you for a myriad of reasons, including the long list of standard safety features found in the vehicle. We at Beyer Volvo Cars of Dulles are here to help.
Let's start with active bending headlights. The road isn't always a straight pathway; active bending headlights move with your vehicle through curves and other situations on the roads. This ensures that you will see objects that could get in the way.
Another great standard safety feature is automatic emergency braking. Think of all of the objects that could suddenly get in your way before you have time to react. Automatic emergency braking makes sure that you won't collide with these objects when you simply don't have a quick enough reaction time. There is more. Stop by our showroom in Dulles, VA to experience more through a test drive.