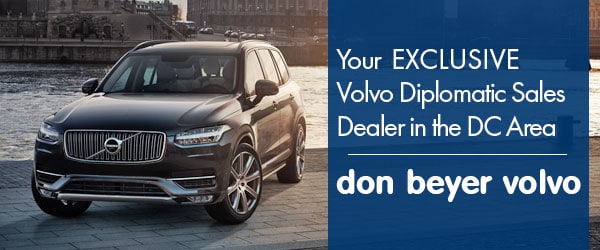 For over forty years, Don Beyer Volvo and Volvo Overseas Delivery have delivered Volvo cars throughout the world.
Whether traveling to Europe for leisure or business, a member of the Domestic and Foreign Diplomatic Corps or the Armed Forces, the Overseas Delivery program offers a wide range of delivery options for you.
Customers benefit from an extensive selection of Overseas Delivery locations as well as special factory savings that can be considerable.
Overseas Delivery provides services for four groups of eligible customers:
Diplomats: Holders of diplomatic passports and certain other visas who are entitled to operate a vehicle.
Some of the eligible visas and passports include:

» NATO-1 and NATO-2
» A-1 and A-2
» G-1 through G-4
» United Nations Laissez-Passer
» European Union Laissez-Passer
We are privileged to serve tax-free personnel at:

» Embassies / Consulates
» United Nations (Main org, UNESCO, IBRD, World Bank etc)
» European Union (commission, parliament, institutions, agencies etc)
» International organizations (NATO, OECD etc)


Your diplomatic benefits:
Exclusive pricing for diplomats and international organisations
Cars for private and official use
Variety of specifications and models
Custom-build your new Volvo
Worldwide delivery and service network
Option of VIP factory delivery in Gothenburg, Sweden
International warranties
Round-the-clock roadside assistance in many places
Swedish export registration (where required)
Home shipment for US and Canada specification cars
Serving the diplomatic community for more than 40 years
Military: Active duty members of the Armed Forces who were stationed overseas for a minimum of 140 days, within 90 days of ordering.
Expatriates: Individuals must have a valid, non-US passport as well as proof of expatriate status (such as an employment contract or housing agreement), which must be submitted with the car order. Residence in the US must be established for an extended period of time (i.e., longer than six months), but not permanently. This program is primarily designed for Europeans temporarily residing in the US, and offers a unique way forthem to buy a US-specification Volvo.
This information subject to change and all sales are contingent upon approval of Volvo Car International Customer Sales.